June 2020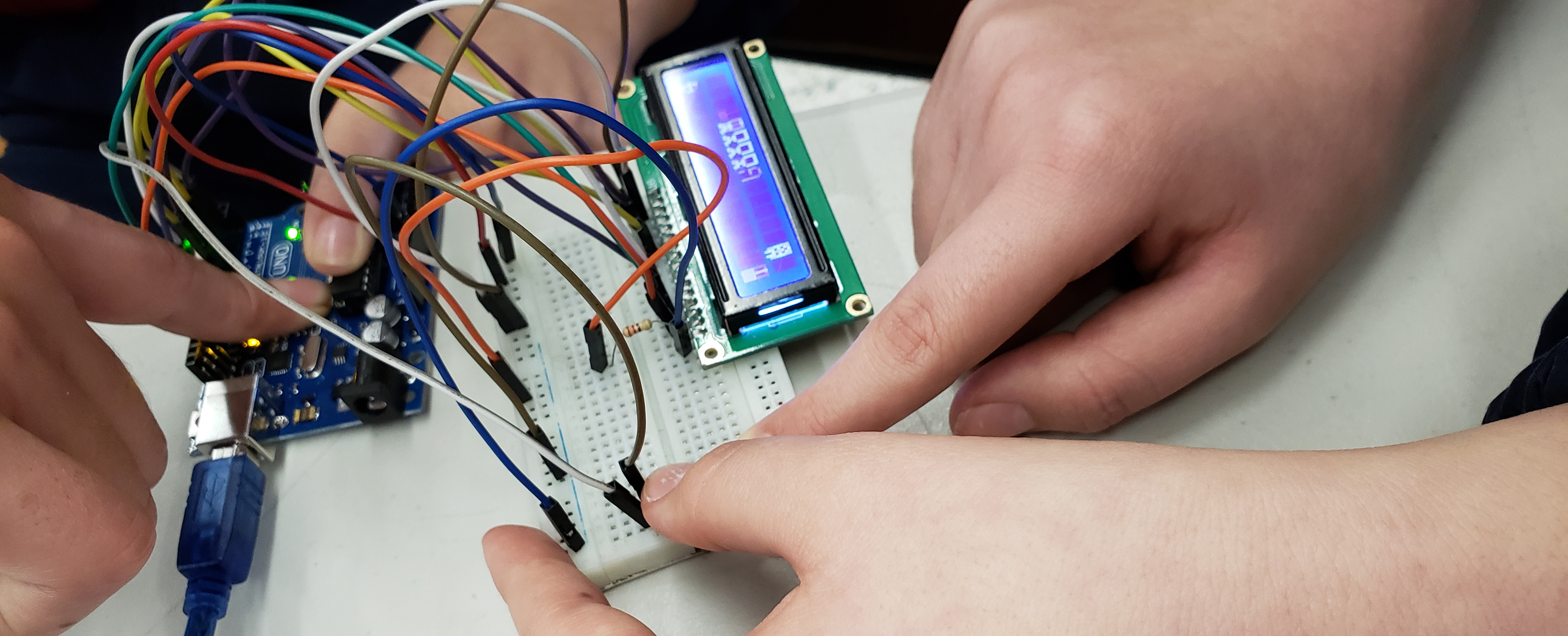 In this newsletter, we are sharing updates on

Congratulations Omro High School 
COVID-19 Updates
Gearbox Labs Updates
Next Curriculum: Internet of Things
Worldwide Partner Network
Gearbox Labs Workshops and Online Courses
STEAM News

The Gearbox Labs Newsletter shares information about

our curricula, kits, and services
upcoming events
project insights
stories from our partners and model implementations
STEAM News, information, and resources for your classroom or educational setting

In case you missed our inaugural newsletter, you can access it here.

If this is not of interest to you, you can opt-out completely 
But before you do, please consider forwarding to someone in
your organization that may benefit from our work. Learn more about us here.
---
In January of this year, Gearbox Labs directors and authors Isabel Mendiola and Peter Haydock had the pleasure of meeting the robotics team at Omro High School in Omro, Wisconsin, USA. This team was competing in the Samsung Solve for Tomorrow competition. They had just completed another round of the competition for their autonomous ice thickness measuring robot (how cool is that?). The team had moved on to the finals where they would compete with 20 other teams at the US national level for the top prize. Isabel and Peter had been asked to work with the team and help if needed. The team had already been hard at work since early in 2019 starting with their first competition submission in October 2019.

Isabel worked with the team on sensors and coding, while Peter worked with them on aspects of managing the project for the finals. The team at Omro Skyped with Isabel and Peter and exchanged some emails as follow up support.

What impressed Isabel and Peter the most was how clear the team's vision was and how everyone brought their full expertise to the table. Whether it was fabrication, 3-D printing, coding, understanding the science of their project, video production, or project management all of the team was engaged and stepped up.

The team was interviewed about their project by competition judges and was selected as one of the top five projects.

For being one of the five winners, the team wins $100,000 in Samsung technologies and resources for Omro High School. 

We were happy to contribute in our small way and when we found out they were one of the five national winners, we were so excited for the team.

Watch their final project video here and find out more about their competition journey on the Samsung Solve for Tomorrow website.

Congratulations to the high school, their teacher, Rob Turner, and the team most of all for such an amazing project and winning.
---
We are open for business and planning our Fall 2020 engagements.

We can do all of our business online, over the phone, or through videoconferencing.

Send us an email, give us a call, or message us on one of our social media accounts and we will work with you directly. While we cannot come to you at this time, we can conduct training through our online courses, and Microsoft Teams, and WebEx.

We have books and kits in stock that are ready to ship via USPS or DHL daily.
---
            

Review

Check out one of our latest reviews on YouTube. 

Mini Fundraiser

Get a great "Future Engineer"  t-shirt and help our outreach efforts! See the Bonfire store website to get your limited edition summer t-shirt.

 

Social Media

Check out our updates and follow us on social media.

Isabel is creating a new series of videos for YouTube on real-world applications of the technologies and science we showcase in our work.

| LinkedIn | Facebook | Twitter | YouTube | Instagram | Newsletter |

 

Gifts and Grants

Gearbox Labs has completed its application for Microsft non-profit support. Microsoft awarded Gearbox Labs 10 Office 365 licenses, a full MS Exchange license, and $3500 in annual Azure services plus lots more support for our work. Thank you, Microsoft!

Google has also recognized Gearbox Labs non-profit status with free ad support and free mapping services. Thank you Google!

Spectrum Cable, Internet, and Phone service has sponsored a free marketing video for Gearbox Labs. Thank you Spectrum! You can watch the video here on our YouTube channel.

Gearbox Labs is currently working with other organizations on gift and grant requests including two National Science Foundation proposals. 

Contact us if you have any questions here.

 

Authorized Reller

Gearbox Labs is pleased to announce that it is now an official reseller of Arduino(R) products. All our kits feature authentic Arduino(R) UNO boards and this relationship will allow us to continue to get the boards directly from the factory in Italy.

If there are any Arduino products that you want to special order from us contact us and we will work with you. This agreement is also important for our next curriculum, the Internet of Things which will feature other Arduino(R) boards. 

Gearbox Labs will be announcing other reseller agreements shortly. We are happy to work with you to meet your physical computing needs.

Check out our store for parts that we have in stock.

 

 

 

 

 

 

 
---
Gearbox Labs has commissioned the second book in The ARDUINO Classroom series. The ARDUINO Classroom: Internet of Things Edition will be available later in 2020. Learn more about the forthcoming curriculum here.

This curriculum will be structured as the STEAM Edition. It will feature projects that use

Bluetooth
Wi-Fi
Cellular
GPS

to interconnect to sensors, webpages, and apps.

We have established the parts lists and curriculum costs. We will post on our store website soon.

Contact us if you have any questions here.
---
Gearbox Labs is pleased to announce the following partners.

Philippines, Felta Multi-media 

Felta is hosting a series of online workshops including an introduction to Tinkercad and Arduino(R) and their work with Gearbox Labs
Check out the Felta website and Facebook page for details.
 
Neenah, WI, USA Cre8lab 
Cre8lab has been busy the past few months using their 3D printers to print parts for PPE for healthcare workers and other essential staff. We applaud their efforts and are proud to be their partner. We talked with the team there and they are looking at reopening soon. We are looking at doing a workshop with them this summer. Stop by the Cre8lab website to see all of their offerings.
 
Exminster, UK, CodeCreates

CodeCreates is ramping up its offerings of books and kits from Gearbox Labs and others.
Shop the CodeCreates store here.
 
South Africa, KUTYEI - RoboCoder
Located in Pretoria, South Africa, Tinago and Roy are building a business to teach robotics and coding skills to students. Robocoder will be using content from The ARDUINO Classroom: STEAM Edition in their workshops and online courses. 
 
TIPS Contract (TEXAS)
Gearbox Labs has been awarded a contract to sell its curriculum, kits, and workshops to Texas schools. For more information click here. 
We are also in the purchasing systems of several school districts in Texas. Check with your local district and if we are not in yours, use the contact form to reach out to us here.
 
Gearbox Store
See all of the offerings of Gearbox Labs at the online store.
---
 

 

 

 

 

 

JULY 2020

Bardstown School District, Bardstown, Kentucky

 

AUGUST 2020

Milwaukee School of Engineering: STEM at Home

We are proud to be facilitating  MSOE's grades 9-12 STEM at Home course this August.  MSOE STEM at Home is offering many other courses for all grade levels in June, July, and August with our course starting in August.  For more information click here.  Additional details on how to enroll in our course will be posted this later this summer.
 

John Michael Kohler Arts Center

For students ages 8 to 12. This summer camp experience was rescheduled from July. Dates and more information on registration coming soon here. 

 

OCTOBER 2020

Wisconsin Association of Talented and Gifted: Virtual Teen Conference

WATG is hosting the 2020 Virtual Teen Conference, presented by Gearbox Labs on October 18, 2020, from 9 am until Noon. Join authors Isabel Mendiola and Peter Haydock as they work with attendees on project 6 from their curriculum. Explore engineering design, coding in C/C++, and physical computing. WATG does have scholarships for this workshop For registration and additional information click here.

 

NOVEMBER 2020

Eastern Kentucky University: PIMSER Workshop

November 18, 2020. Details and registration information coming soon.

 

24/7/365 ONLINE COURSES

Introduction to Arduino

A short introductory course to build skills using the Arduino UNO. In this course, you will build 6 Arduino Projects. The projects are numbers 1, 2, 4, 6, and 16 from The ARDUINO Classroom: STEAM Edition and a project of your own design. To learn more click here.

Scientific Sensors and Arduino

A course to build skills using scientific sensors and the Arduino UNO. This course is designed and facilitated by the curriculum authors Isabel Mendiola M.S. and Peter Haydock, M.L.I.S In this course, you will build 6 Arduino Projects. The projects are numbers 13, 15, 18, 19, 20, and 22 (light, color, heartbeat, pH, soil moisture, and temperature) from The ARDUINO Classroom: STEAM Edition. Resources include project videos, reference videos, reference web pages, diagrams, and photos. If you run into a jamb, the authors will video conference with you to troubleshoot your projects. Take short section quizzes to demonstrate your understanding. To learn more click here.

Full Course

We are currently developing a course for all 25 projects in The ARDUINO Classroom: STEAM Edition. Watch our website for more information.

These courses are available for licensing to a school server or hosted on our servers.
---